About Jessica
Jessica Claire Haney is a writer, editor, and tutor living outside of Washington, DC. Her work covers parenting topics and issues related to health and wellness, including healthy bodies and a healthy planet.
Check out Jessica's new and emerging venture, Mindful Healthy Life, an online lifestyle magazine and resource for natural-minded parents in Metro DC.
Find her writing at her personal blog, Crunchy-Chewy Mama and at TheDCMoms.com.
Get a copy of the humorous anthology that features two of Jessica's essays on breastfeeding, Have Milk, Will Travel: Adventures in Breastfeeding.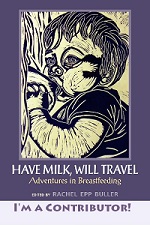 See her featured in the March/April 2015 Arlington Magazine article, "How Much Screen Time is Too Much?" by Kim O'Connell.
Read archives of her Health and Science column, Ingredients for Healthy Living. at the Communities at Washington Times Online
Jessica says: See me on video!
Watch me speak at the Moms Clean Air Force Virginia Mama Summit Press Conference 2/19/15
See my appearance on Liz Crenshaw's Consumer Watch regarding the cost of diapers (filmed in my newly renovated home!) and my 2010 appearance on CNN in which I talked about avoiding foods with High Fructose Corn Syrup.